Due to the coronavirus pandemic (COVID-19), we offer a contactless service, so you will need to make a bank transfer 3 days (72 hours) before your arrival.
We will contact you after booking to provide you with more information.
Please note that we only accept reservations of a minimum of two (2) nights.
Please, also note that if you cancel within 10 days of your reservation, you will be charged a 30% fee.
If you cancel within 72 hours of your reservation, there will be no refund.
Cancellations must be made by email to info@hotelsaintdonat.ca
For the duration of the pandemic we do not accept payment by VISA and Mastercard.
Each beautiful studio in the hotel contains a private bathroom, a modern kitchenette, and a small living room. Each studio has a fridge, microwave, kettle, coffee maker, toaster, air conditioning, ample free parking, as well as free high speed internet.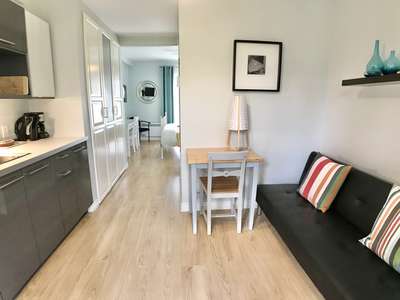 #3 Le Studio Bleu - 130 $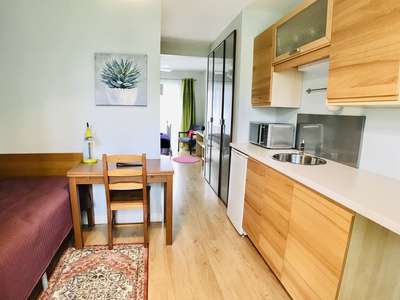 #4 Le Studio Violet - 130 $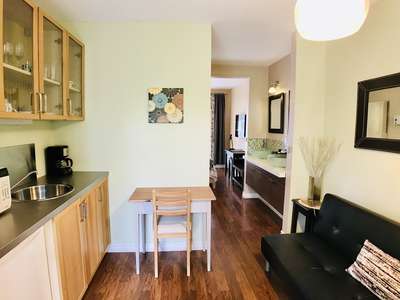 #5 Le Studio Noir et Blanc - 130 $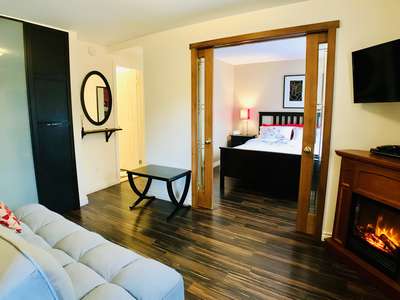 #1 Le Studio Rouge - 150 $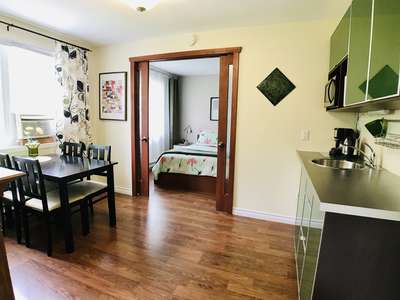 #2 Le Studio Vert - 145 $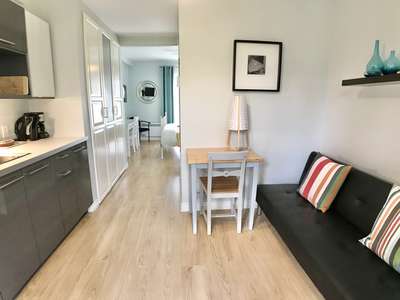 #3 Le Studio Bleu - 130 $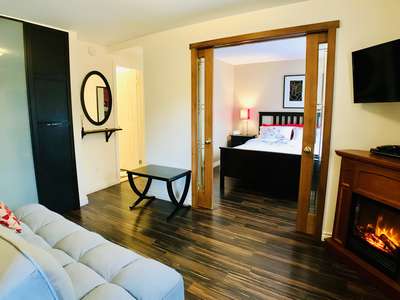 #4 Le Studio Violet - 130 $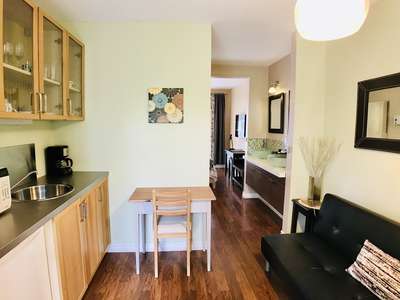 #5 Le Studio Noir et Blanc - 130 $
#6 L'Appartement 3 1/2 - 178 $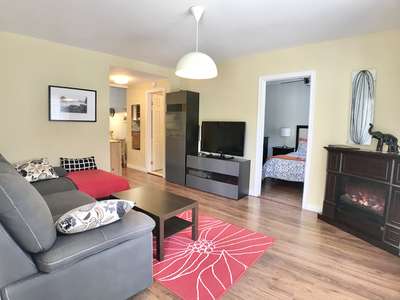 #7 Le Studio Bleu - 245 $
Breakfast
Breakfast can be served for $ 12, as well as other meals for an additional price.
Check-In: 3:00 p.m.
Check-Out: 11:00 a.m.
Arrival times are between 3:00 p.m. and 5:00 p.m. If you arrive between 5:00 p.m. and 10:00 p.m., please let us know.
Additional person(s): $20, children up to 5 years old, if sleeping with parents - are free.Additional bed: $10Prices are subject to change without notice.
Payment can be made by cash, Interact, or wire transfer.We accept Visa and MasterCard credit card payments.